Automotive TV
Rear Seat Entertainment (RSE), navigation systems and next-generation instrumentation put video into millions of cars (and boats, and planes)
Interactive maps and travel guides are helpful, and the back seat of a minivan filled with screaming children is an obvious site for TV, but new video displays and satellite receivers in RVs, trucks, taxi-cabs, buses, subways and even — God help us — the dashboard and the front passenger visor are putting television on the road.
According to J.D. Power & Associates, last year 850,000 vehicles were sold with a factory-installed navigation system, and 28 percent of new 2003 full-size sport utility vehicles had a passenger entertainment system installed (up from 7 percent in 2002).
Judging fcrom the hot products in the automotive aftermarket and the action on MTV's Pimp My Ride, in-car video (and killer audio) are making those enldess hours in traffic easier for millions of driver. By the end of the decade, some 22 million automotive DVD systems will be hypnotizing back seat passengers around the world. And coming soon are satellite and Internet links to the car and new video in all kinds of moving vehicles — underground, on the road and in the air.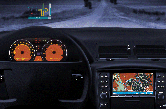 Dashboard navigation systems like this Siemens VDO connect live GPS (Global Positioning Systems) data with CD or DVD geographical information on a video display. (Note the head-up display that projects directions onto the windshield.) Since it's illegal in many places to watch TV while driving, installers are required to disable front seat DVD playback while the car is moving.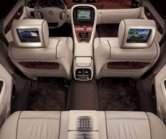 A typical factory-installed rear seat entertainment configuration puts LCD video monitors in the headrests and hides the DVD player under the seat or in the armrest. Others flip down from the ceiling.

For parents, the DVD is controlled by Mom and Dad from the front seat. More troubling are LCDs in the front seat visors or even in the steering wheel.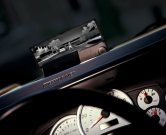 Raytheon's Night Driver package for Hummer SUVs extends a driver's vision five times further at night

using an infrared video camera hidden in the front bumper. Yet another camera can be hidden in the rear bumper, feeding a monitor built into the rear view so you can see behind. We figure 10 video screens per car is about the max: see Hummer Video Madness.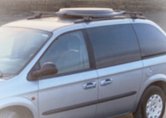 For about $2,200, the 5-inch-high roof-mounted RaySat StingRay mobile satellite antenna receives satellite TV signals throughout North America, Europe and Asia. A sophisticated tracking system provides uninterrupted satellite access while the car is in motion. A new 2-inch-high version could be built-in by car manufacturers. Internet access is planned. (See also TracVision.)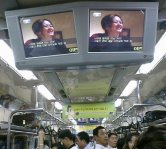 The #3 subway line in Seoul, South Korea, broadcasts recorded soap operas on twin LCD screens mounted on the subway ceiling, according to Korean blogger Goodhyun. Live subterranean TV is the target of Fourth Wall Media's ONEStop Network in Toronto, where subways carry about 850,000 riders per day, with each ride averaging 17 minutes. In an article on AKA.TV, Fourth Wall's president Mike Gingris said that, on the subway cars, the proposed screens will only be seen towards the center of the cars, without sound.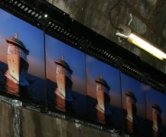 A little off-topic and certainly not video, Sidetrack Technologies ads installed in the Boston subway system deliver moving images like an elaborate flip book. Some 400 printed images stretching nearly 1,000 feet along the tunnel wall are animated into full motion by the speed of the passing train, in synch with a proprietary lighting system, creating a 15 second, "television-like" commercial. A Quicktime video of local news coverage shows how it works.

Flat panel displays, DVDs and in-motion satellite receivers give the generations that can't live without TV moving places to watch moving images. Drive-time radio execs should start getting worried when solo drivers turn on the TV in the backseat instead of tuning in to Imus or Stern. Minivan families will gather around the rear seat and let Dad or Mom drive alone up front. State legislators write laws (like California's Assembly Bill 301) to prohibit TV while driving. Advertisers will try to move billboards off the side of the road and into the cars. And new kinds of very-short-attention-span programmers will target moving viewers.
PROGRAMMING, INTERFACES, NETWORKING AND SAFETY
IN3's Pervasive TV Project
examines the activities in this new video environment and what it means for communications:
What do people watch on the road?
What features do they need from their DVD players (e.g. bookmarking, auto-restart, speed-queued playback)?
How do they integrate their home networks with their cars (e.g. garage WiFi links, portable playlists, driver multimedia profiles)?
What are the safety tradeoffs with in-car video (driver attention, night vision and rear view TV, the impact of local legislation)?
How far can we push this (e.g. head-up displays, augmented reality navigation, in-car video conferencing)?
Anesthetizing the kids with DVD Barney may be a mild form of child abuse, but as long as the technology enables us to be rolling couch potatoes, we'll tune in. Drivers in the U.S. and the U.K. spend about an hour per day in their cars, trying to get home to watch their 3 to 4 hours of TV per night. Now, with plenty of cup holders, drive thru dining, reclining bucket seats, a half-dozen LCD screens and a roof-top satellite receiver, being on the road will seem more like home.
---
UPDATED MARCH 29, 2005 BY JACK POWERS, EDITOR